Bankifi
Putting banks at the heart of business.
BankiFi transforms internet and mobile banking from playing a transactional role for SMEs to the place where they manage all their business finances. From invoicing and accounting to cashflow forecasting and working capital optimization, banks can liberate SMEs from time-consuming financial admin and allow them to thrive.
BankiFi also brings financial data from multiple external sources such as Open Banking and accounting software to provide deeper business finance insights to put the bank at the heart of the business relationship.
false
Mobile App
BankiFi's mobile application permits sole traders or a small group of directors to collect payments quickly and conveniently from their customers whilst also automating their accounting.
It helps small business get paid faster, reducing late payments and reducing time spent on financial administration.
---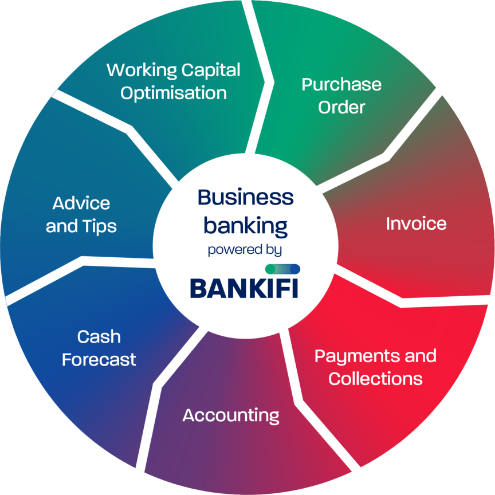 false
false
Open Cash Management
Open Cash Management provides BankiFi's bank clients with the technology to address the finance management requirements of more small businesses, namely larger, more established small and mid-sized businesses with greater turnover.
Open Cash Management enables the customer to go from simply using the banking channel to check account balances, move money between accounts and make payments, to a fully Embedded Banking service that puts a bank's brand and digital channel at the heart of business customer relationships.