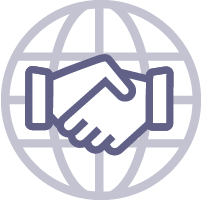 Bitpanda
Europe's largest neobroker and crypto exchange.
Create your own trading and investing experience for Bitpanda Technology Solutions is a modular & customisable Investing-as-a-Service infrastructure with the aim of providing partners with an easy and quick to integrate solution based on our proven investment infrastructure, in an environment their customers know and trust. Partners who integrate with our world-class APIs can safely and securely offer more than 2,500+ assets across crypto, stocks/ETFs*, precious metals & commodities.
Already 20+ million customers enjoy access to investments through our trusted partners including leading banks, neobanks & fintechs.
Through Bitpanda's cloud based infrastructure, partners can create their own customer experiences by leveraging our end-to-end automated trading infrastructure, compliant with the highest security standards. Our regulatory excellence is recognised across the industry as market leading and is trusted by our partners. Additionally they can rely on Bitpanda's set of licences including a MiFiD II investment firm licence, an E-money licence under PSD2, as well as several crypto licences and registrations as a Virtual Asset Provider in Germany, Austria, France, Italy, Sweden, the Czech Republic, Spain and more
false
Bitpanda White Label
Bitpanda White Label USPs are twofold, centered around infrastructure and regulatory excellence.
Our one-stop-shop solution supports our partners with the technical backbone they need to deliver reliable and safe digital asset trading & custody to their retail users in record-time.
Bitpanda is the most regulated and licensed exchange in Europe, our regulatory excellence is highly praised by partners who benefit by relying on Bitpanda's large array of licenses for crypto or stocks to launch their digital asset offering in a compliant, stable & secure framework across Europe.
Key Benefits
Time to market: Implement a world-class investment and custody offering in as little as 3 months
Modular integration: Get a bespoke solution tailored to your needs, and keep up to date with the latest technology in the market
Maximise revenue: Tap into Bitpanda's expertise and reduce start-up and operating costs
Regulatory framework: Benefit from industry-leading regulatory excellence, which enables operations in 30+ European countries
Modular infrastructure & features:
User onboarding: Fully AML5 compliant onboarding & KYC process
Trading: Allow customers to trade across 5 asset classes. More than 2,200 fractional stocks* & ETFs*, 250+ crypto-assets, 4 precious metals and 30+ commodities*. All tradable 24/7, starting from €1
Custody: Our custody solution covers all asset classes: crypto-assets are kept in an institutional grade cold storage. Stocks*, ETFs* and precious metals are stored by fully regulated and reputable custodians. Our industry-grade crypto custody infrastructure holds all customer funds securely and offline, totally and regularly audited by KPMG
Market data: We make sure you get all the market data you need: Asset prices, fundamentals, asset descriptions - all in different languages
Settlement: 4 fiat currencies supported (USD, EUR, GBP & CHF) with more to come
Portfolio: Our portfolios provides an easy and smooth way for users to keep track of their investments
Fractional investing: Bitpanda's innovative fractionalisation feature enables users to access the market and invest in an asset starting from €1 upwards
Staking: Offering 20+ stackable assets for continues returns
Swap: Enable your customers to directly swap one asset to another
Savings plan: Take customers closer to their long-term financial goals with fully modular & automated savings plans
Blockchain connectivity: Make it possible for your users to send and receive cryptocurrencies across the world via any exchange or external wallet, anytime and anywhere
Staking: Allow your users to stake their crypto-assets and earn yields on a regular basis while staying invested
Bitpanda Academy: Educate your clients with our learning tools and content, all for free
Licences:
Registered as a Virtual Assets Service Provider (VASP) with the Austrian FMA, Swedish FSA, Italian OAM, Bank of Spain, German BaFin & as a Digital Asset Service Provider (DASP) with the French AMF
PSD2 & EMI licences
EU investment firm licence (MiFID II)
Capabilities/ Use Cases
We address any digital asset investing use case for financial services companies & beyond:
Our solutions are tailored for banks, private banks, wealth management firms, neobanks, fintechs, open-banking Platforms, online businesses & more
Bitpanda enables financial businesses to benefit from early-entry into the world of digital assets:
New revenue line from retail or business client trading
Increased user conversion, retention & satisfaction
Facilitated cross-selling through other services or offerings
Regulated, secure & compliant trading in line with market regulators' standards
Innovative positioning & first-mover competitive advantages
Access to scarce engineering capabilities
Contribution to financial education
*Product offering depending on relevant licences. For disclaimer and more information, visit www.bitpanda.com/en/tech