Persona
Configurable identity infrastructure for KYC, AML, fraud detection, onboarding, and more
Persona's trusted identity infrastructure helps businesses automate any identity-related use case — from securely collecting and verifying user information to making decisions and running manual reviews. Manage fully compliant KYC/AML programs, fight fraud, and automate operations all in one place. Integrate in an afternoon, with or without engineering and with less than 10 lines of code.
false
KYC/AML & Onaboarding
Category
Account opening, Security & compliance
Solution Information
Persona makes it simple to meet and adapt to ever-evolving compliance standards and regulation changes without sacrificing user experience.
Contact us for more information around how Persona can meet your needs or get started now for free.
Capabilities
Tailor your onboarding experience: Customize your entire verification flow, from the types of verifications to the number of attempts to the branding that users see. Design an onboarding flow that's both compliant and optimizes for conversion.
Automate your KYC and AML processes: Use Persona Workflows' intuitive drag-and-drop UI to automate manual processes, like decisioning and case creation. Keep it as simple as you'd like or add extra complexity by integrating other data sources and applications with a little bit of code.
Surface priority cases for manual review: Create custom checklists to ensure consistency and accuracy of the review process as your team scales. Manage and see all case-related data in one place.
Build an audit trail in the background: Automatically maintain detailed records of all KYC and AML identity checks, decisions, and case resolutions within one dashboard. Redact user PII without ever storing it in your own systems.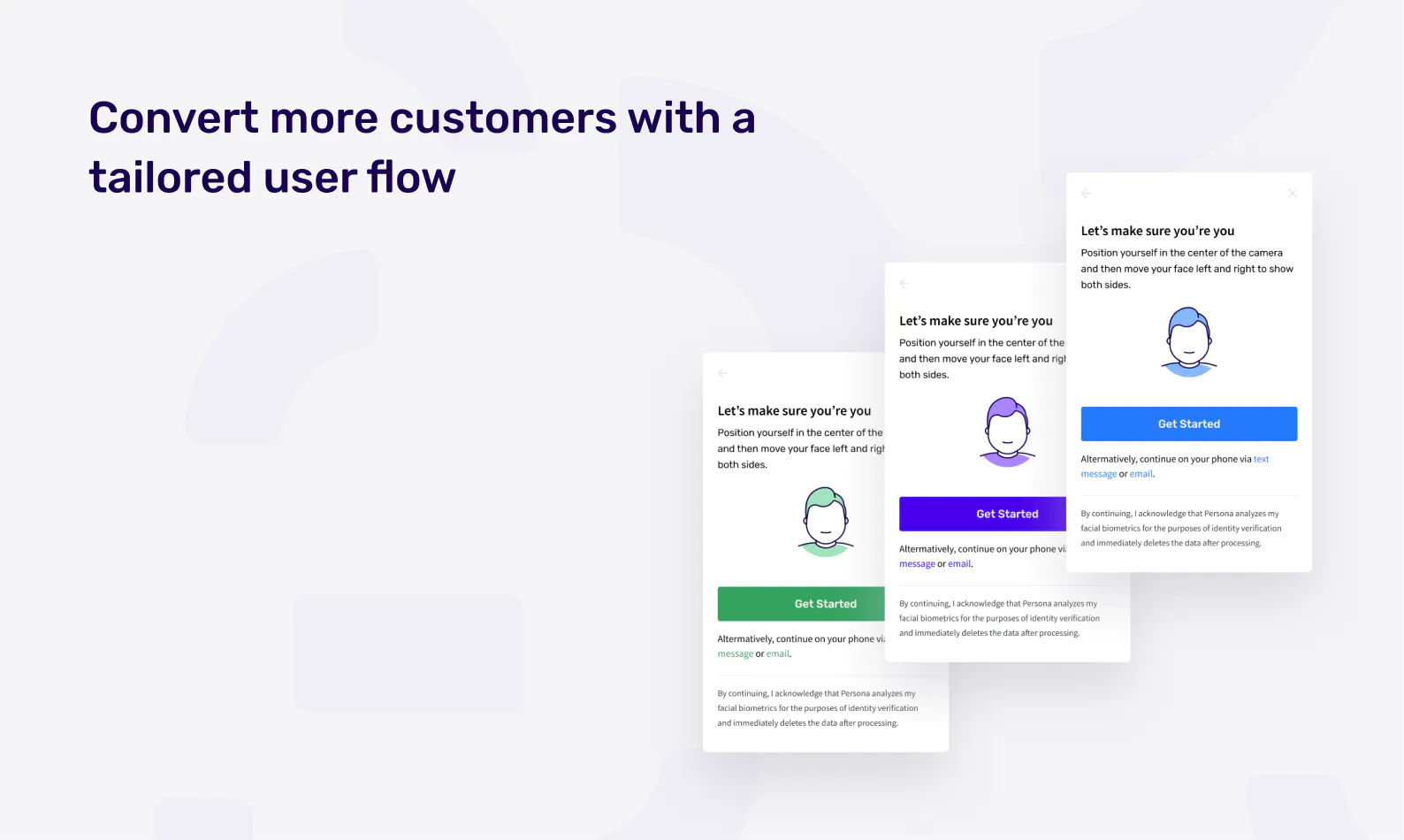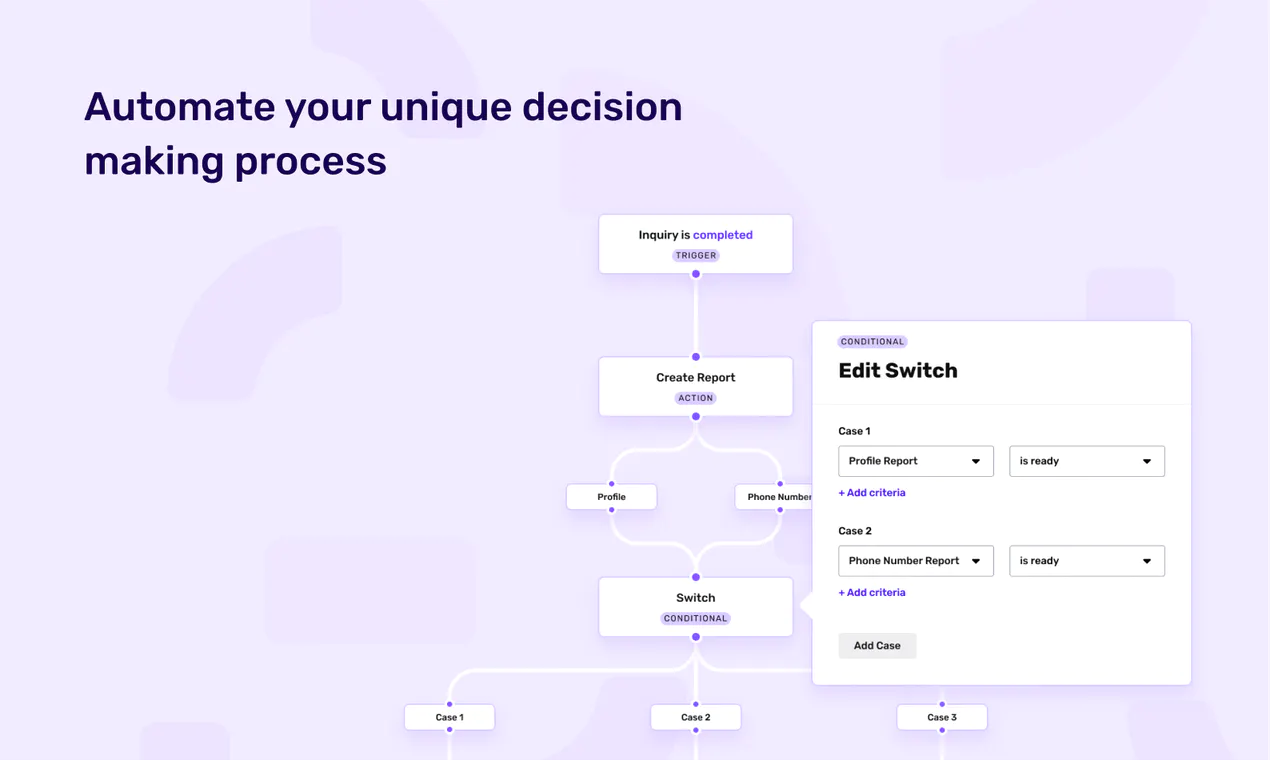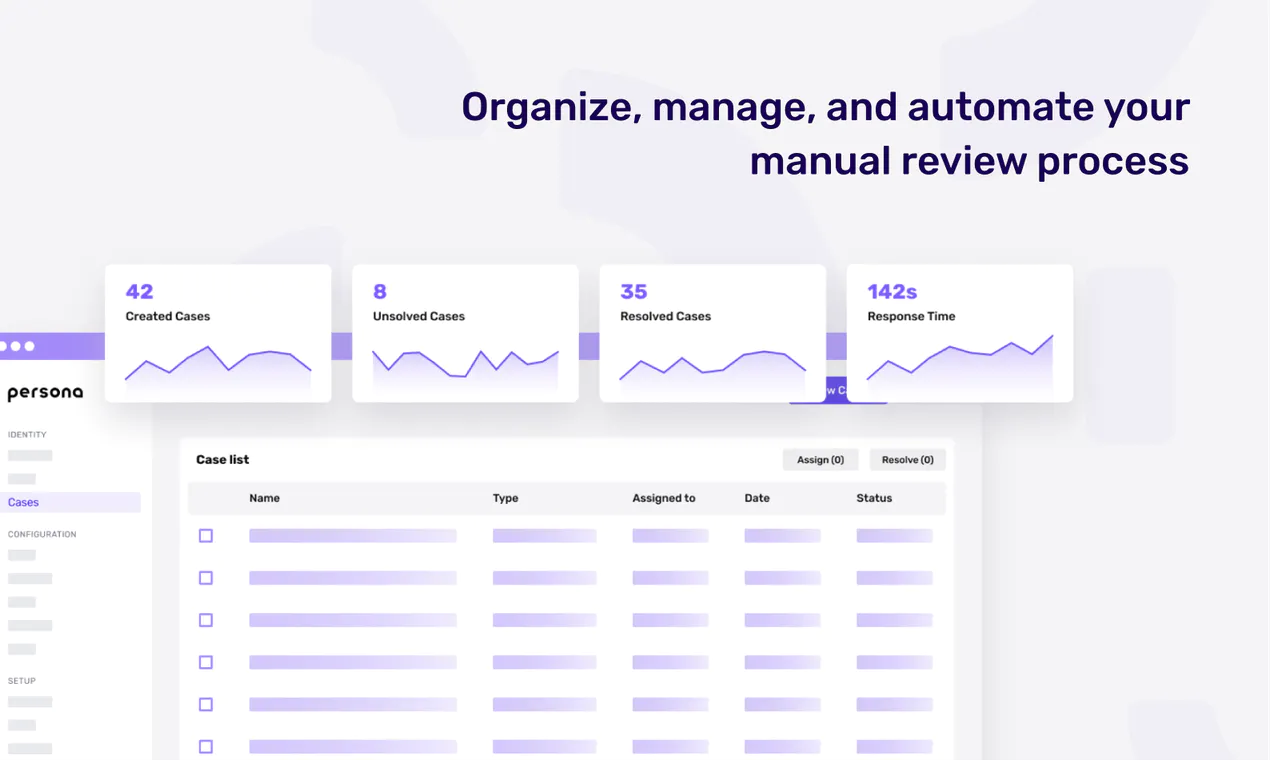 false
false
Fraud Prevention
Reach out to get more information on our solutions.
Category
Account opening, Security & compliance
Solution Information
Craft verification experiences optimized to deter potential fraudsters and convert legitimate users.
Capabilities
Find the optimal balance between friction and conversion: Choose from a variety of verification checks, from barcode detection to liveness checks, and customize the amount of friction each user experiences. Add more friction for risky individuals to deter would-be fraudsters and decrease friction for legitimate users.
Consolidate your business' risk signals: Leverage signals like adverse media, email and phone risk, device data, and more with Reports. Combine these signals with any internal risk data you may have to truly understand a user's risk profile and make better decisions for your organization