Provenir
AI-Powered Risk Decisioning from Provenir
Provenir helps fintechs and financial services providers make smarter decisions faster with our AI-Powered Risk Decisioning Platform.
Provenir brings together the three essential components needed – data, AI and decisioning – into one unified risk decisioning solution to help organizations provide world-class consumer experiences. This unique offering gives organizations the ability to power decisioning innovation across the full customer lifecycle, driving improvements in the customer experience, access to financial services, business agility, and more.
Provenir works with disruptive financial services organizations in more than 50 countries and processes more than 3 billion transactions annually.
PARTNER DETAILS
Fintech Partner Connect, Visa Ready
false
AI-Powered Risk Decisioning from Provenir
With the unique combination of universal access to data, simplified AI and world-class decisioning technology - managed through a single UI - the solution provides a cohesive risk ecosystem to enable smarter decisions across the entire customer lifecycle.
Automate credit and onboarding decisioning, test risk strategies and change rules and parameters without IT intervention, allowing you to offer personalized products to new and existing customers with unprecedented speed.
Underwriting Decisioning Platform, focused on credit issuance
Onboarding / KYC / AML Decisioning Platform, focused on payments
Fully configurable SaaS products empower businesses to rapidly enhance decisioning processes with a wide variety of alternative data and powerful machine learning tools, without sacrificing speed or simplicity.
Reach out to get more info on our solution.
Category
Lending, Account Opening, KYC and KYB, Artificial Intelligence (AI) Machine Learning
Solution Information
No-code technology eliminates vendor and development team reliance, providing the agility to rapidly make changes, test new strategies, and get to market faster.
Drag-and-drop tools and an intuitive user interface support rapid development.
Cloud-native Big Data infrastructure offers the inherent flexibility and scale of cloud computing, plus unrivaled security and performance.
Support for leading cloud environments such as AWS, Microsoft Azure, GCP and more fits every business, whether they opt for a single-source cloud or a multi-cloud approach.
Access to local and global data suppliers across every continent supports single and multi-country strategies.
Auto scaling and flexible technology grows with the business as new product lines are added strategies evolve.
Worldwide 24/7 support, provides organizations with the data, technology and support needed to power a global business.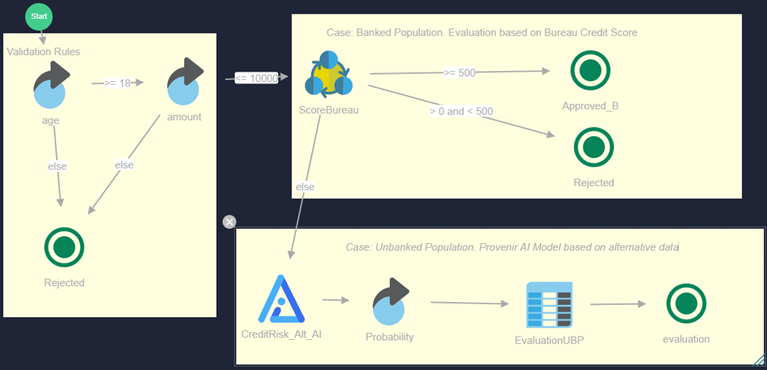 false
false
Provenir BNPL Solution
To thrive in the competitive BNPL space you need technology that supports easy access to alternative data, powers real-time onboarding, and gives you the agility to rapidly adapt to evolving legislation.
Solution Information
Scalable and flexible technology allows you to easily adapt to the evolving market and pending regulations.
Data including alternative sources is accessed in real-time through a single API to make the right onboarding and approval decisions in while performing compliance checks and identity verification in milliseconds while reducing risk with a fully integrated fraud process.
Get to market faster with a no-code UI that allows you to launch, deploy, iterate and innovate on your timeline and terms.