Our solutions are certified by EMVCo, PCI DSS and other major card schemes, making it secured and recognized globally
Founded in 2012, Soft Space is a leading fintech player in the APAC region headquartered in Kuala Lumpur, Malaysia. With over 24 financial institutions in 10 countries, Soft Space's payment solutions simplify the existing financial legacy systems and creates value-added services to help businesses grow.
Soft Space offers a White Lable e-wallet solution, which offer partners with the opportunity to launch their own niched e-wallet to market segments. Partnering under Visa's Fintech Fast Track program, this further expands Soft Space's capability to enable partners to introduce their own Visa prepaid card.

Additionally, Soft Space is listed as a certified partner by Visa for its Tap to Phone solution, which allows NFC Android smartphones to accept contactless card payments.

In 2020, Soft Space is recognised as one of the fastest growing fintech companies in Malaysia by IDC Financial Insight Fintech Fast 101 List.
Soft Space Website
---
Fasspay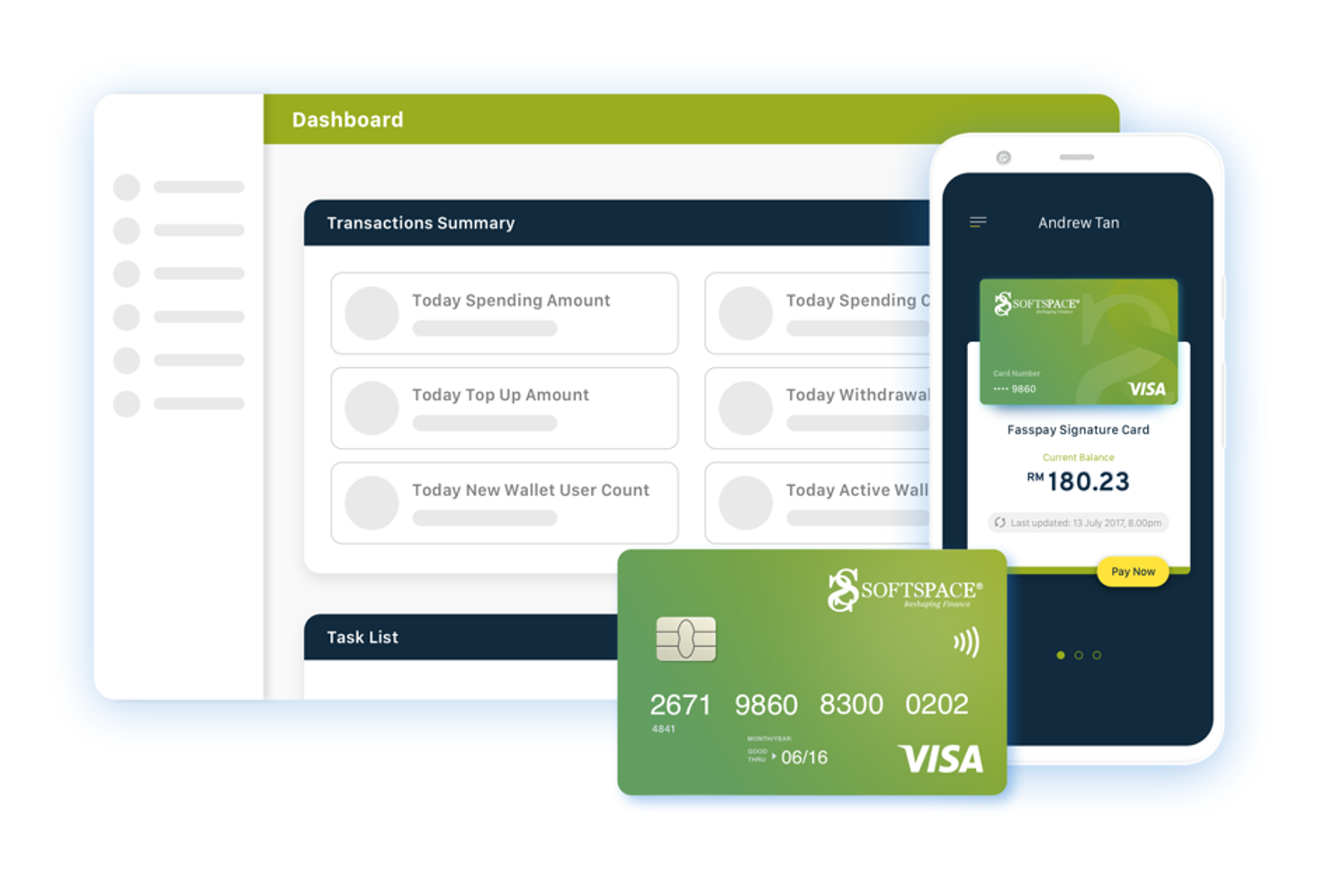 Secure white label e-wallet designed to adapt and scale: Leverage our suite of digital wallet features and offering to rollout an e-wallet catered to your business needs.
Seamless onboarding integration: Customise the e-wallet based on your business identity and integrate seamlessly via SDK or APIs with your existing business solutions or develop your own niche wallet solution via our reskin concept.
Cost-effective issuance: Benefit from the simplicity and the ease of our solution towards issuing a prepaid card linked to the e-wallet for B2B and B2C payments in a relatively cost-effective manner.
Quicker go-to-market: Our solution has met necessary compliance and regulatory process which helps you to launch your wallet without the need to go through a complicated regulatory process.
Solution Information
Type of Solution
Full Solution/White Label
Category
BIN Sponsor
Visa Card Program Support
Prepaid, Debit, Credit, Consumer, Commercial, Small Business
Support
Program Management Support
Yes
Fintech Pricing Model Support
Revenue share, Per-transaction, Per-volume, Combination
(e)KYC/KYP Support
API Deployment, with third-party connection to Innov8tif for identity document verification
Crypto Support
Yes
CASA Program Support
No
Capabilities
National Regulatory License
E-Money
Third Party Issuer Processor
Yes
Payment Processor
BPC Payment Services
Domestic Payment Network Connections
PayNet
ATM Network Integrations
No
Additional Capabilities
Bill Pay
Yes
Foreign Exchange Treasury
No
Program Management
Yes
ACH Origination
No
Cash Advances
No
Remittances and Cross-Border Transactions
In-Progress
Multi-Currency Settlement
In-Progress
Installments
In-Progress
Surcharge Free ATM Networks
No
Additional Capabilities
Co-operative Authorization
No
Connection to Real-Time Payment Schemes
Yes
Visa Direct Origination
No
Preferential Card Manufacture Rates
Yes
Access Control Server for 3DS
Yes
AML-as-a-Service
Yes
Virtual IBAN (if applicable)
No
Corporate and Business Card Processing
Yes
Solution Information
Category
Tap To Phone
Version
1.0
Hardware Compatibility
- Samsung (NFC, TEE, TUI)
- HTC (NFC, TEE)
- HUAWEI (NHC, TEE, Google Services)
- LG (NFC, TEE)
- SONY (NFC, TEE)
Operating System Compatibility
Android 7.0 and above
Security Capabilities
Type
PIN - Yes
Manual PAN Key Entry - No
Receipts - Yes
Signature - Yes
Security Mechanism
Software Hardened Solution